Artists talking studios are like fishermen talking the size of fish. So said one artist of a
show on Valencian Artists' Studios
we checked out yesterday (now that we've finally recuperated from the flu and extreme coughing).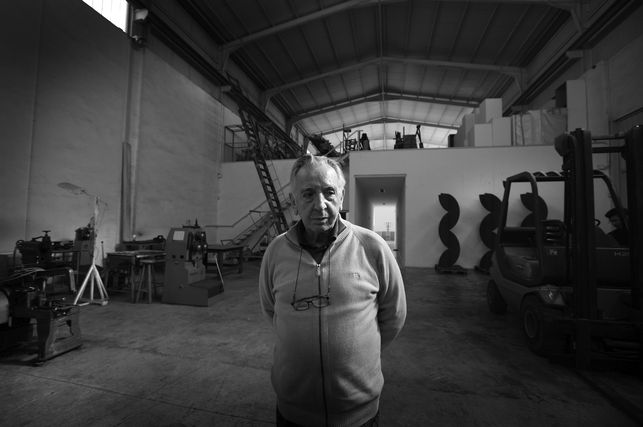 The recently deceased sculptor Andreu Alfara in his studio in Godella.
The thesis of the show was that an artist's work and personality are inseparable from the organization and feel of his or her studio. Some studios are rats' nests while others are ads for a cleaning service. Some are converted warehouses and some converted farmhouses. Some could be chunks of Piccadilly Circus or Times Square and others the dens of aesthetes. Some stick with an artist for decades and others come and go overnight. Some are light and airy, some dark and murky. Either way, the 46 artists of this exhibition agreed a studio reflected greatly on the work - it was virtually a part of it.
The show was divided into stations. In each was a studio shot, an artwork, an explanation of the artist's art, and the artist's reflections on his or her space - great contextualization and in my experience rare for a gallery of this stature. Kudos to the curators.
Afterwards we headed for
Alejandro Casanova
's in the hopes he'd open up his space for us. Studios are sanctuaries, designed to escape the world not let it in, the show had explained. Alejandro is a good sport. He shares a large apartment with 7 other artists. They split on the rent. Each gets storage room wherever they can find it, mostly in the halls. After a coffee, Alejandro was happy to open up. Right away a bouquet of turpentine and tobacco hit us. We wandered around and chatted with the other artists. We poked at their work. Alejandro unwrapped a few giant paintings and asked our opinions on them. We left dizzy but inspired for a second time.
Now as for my own studio, seriously, if you measured it from head to tail...